The world's ninth largest country is one of his last trips to large uncertainties. Although the outside world is becoming aware of Kazakhstan, largely thanks to its oil and the antics of the pseudo-Kazakh Borat Sagdiyev, few have really explored this land of varied attractions.
Easily the most economically advanced of the 'stans', post-Soviet Kazakhstan is reinventing itself as a Eurasian nation prosperous and modern one. The commercial and social center of leaf, Almaty, has an almost European, with first class hotels, boutiques, cafes and elegant smooth streets thick with BMW and Mercedes. Astana in the north, is transforming rapidly into a capital Quickfire Century 21 with a unique blend of Islamic architecture, futuristic West, the Soviet Union and crazy. President Nursultan Nazarbayev has ruled Kazakhstan since the Soviet era, does not encourage political opposition, but getting to forge a peaceful and multiethnic nation – making it generally quite popular.
Around the periphery of the great steppes, where people of Kazakhstan, once nomadic, being famous for his skills with horses and equestrian sports only – used to walk, Kazakhstan presents a series of amazing adventures. You can walk on foot or horseback in the spectacular Tian Shan and Altay mountains, watch the flamingos on steppe lakes or discover mysterious underground mosques near the Caspian Sea. Community ecotourism programs in some of the most beautiful areas allow travelers to stay with village families at an affordable cost.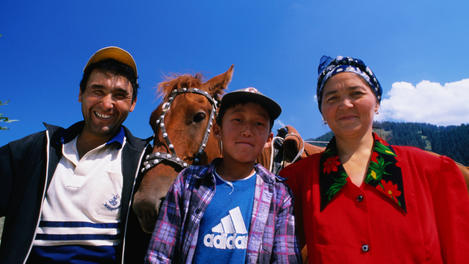 With passengers still rare here, a foreign guest is usually treated not as a tourist, but with true hospitality and townspeople will be out of their way to help. Enjoy while it lasts!