Turkey could be the most controversial country in the world. Its landscape is dotted with battlegrounds, ruined castles and palaces of great empires. This is the land where Alexander the Great cut the Gordian knot, where the Trojans fought Achilles in Homer's Iliad, and where the Ottoman Empire fought battles that shape the world. History buffs can immerse themselves in the wonders and memories that go back to the dawn of civilization.
On the other hand, if you want to rest, just spend an afternoon being pampered at a hamam, or let the warm waters of the Mediterranean coast lap at your toes. Adventure lovers can head east to Nemrut Dagi National Park. Good vivants need look no further than Istanbul, where markets and bars are among the most elegant and atmospheric, and the mod Ottoman cuisine rates as the tastiest in the world.
Country's tumultuous history has left a profound legacy. People who have never had to suffer for an idea or a fight for a piece of land can be overwhelmed by the passion of ordinary Turks for their country. However, for ordinary Turks that passion has its output, not in the heat of war, but in the simple pleasures: family, food, music, football and friendship. The Turks have an inspiring ability to keep things in perspective, to go on with everyday life and spend some time with the blood in the process. Sharing their joy in simple things is a highlight for every visitor.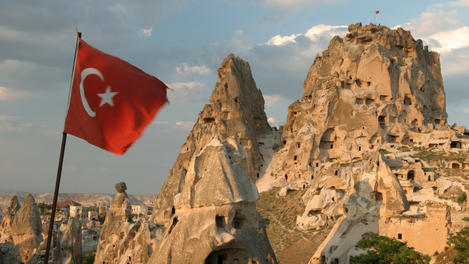 Treating Turkey as the quintessence of most Turkish dishes, the meze, a table filled with scrumptious treats height. Throw away the menu, order a party platter of everything and until you can not go on. Afiyet olsun!