The land that gave birth to the first great civilization needs no introduction. The pyramids, minarets, the Nile – Egypt's scope is magnificent.
Visitors are surprised to discover that these legendary pyramids are only the tip of the iceberg archeology. Pharaonic Nations, the ancient Greeks, Romans, Christians, and Arab dynasties have played a role in shaping the shame of Egypt's rich architecture.
Zumba chaos of Cairo around a medieval core has remained unchanged since the days of the founding of Islam. Upstream Luxor, the site of ancient Thebes, is aligned with the labyrinths of burial chambers opulent and boasts some of the most imposing monuments of all antiquity. Further south of Aswan, even more impressive temples geometrically write a testimony to the power of gods and pharaohs archaic omnipotent. This is where the Nile is best explored on ancient sailing in a felucca (Egyptian sailboat) at the hands of the currents and prevailing winds.
To the west, the ocean of sand of Egypt extends infinitely in the Sahara, with a handful of isolated islands oasis of green power. Hivelike medieval fortresses, shrink here, interspersed with fountains and bubbles ghostly rock formations. Meanwhile, deep, clear waters of the Red Sea are awash in bright coral, surrounded by a frenzy of underwater aquatic life. In the deserts of the interior of the Sinai, visitors can climb the mountain where God was speaking with Moses, and spend his last days in happiness idyllic coastal backpacker in Dahab Shangri-La.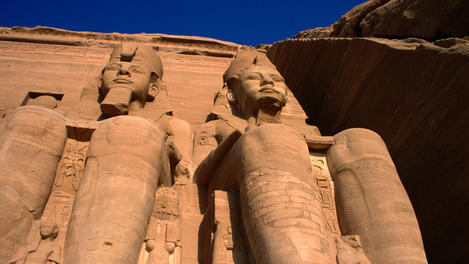 Although one of the most politically stable countries in the region, Egypt today is not without conflict. Thirty years of authoritarian rule, a shadow economy and rising cost of living fan the flames of social discontent. However, the Egyptians are a tough lot, and visitors make the trip here is ancient history until modern hospitality.