Situated between the Kalahari and the South Atlantic, Namibia has a huge potential as one of the youngest countries in Africa. Besides having an amazing diversity of cultures and national origins, Namibia is a photographer's dream – which features wild landscapes, rugged mountains, deserts solitary, impressive wildlife, colonial cities and room for maneuver is limited practically illegal.
A predominantly arid country, Namibia can be divided into four main topographical regions: the Namib Desert and the coastal plains in the west, the central plateau to the east, sloping, the Kalahari border with South Africa and Botswana and savannah woodland of the Kavango and Caprivi. Despite its harsh climate, Namibia has some of the largest national parks in the world, ranging from wildlife-rich Etosha National Park in northwestern Namibia, in the dunes and desert plains of the Namib -Naukluft west of Namibia. Windhoek, in the Central Highlands, is the country's geographical heart and nerve center of trade, with an ethnic mix of people, while surfers and beach lovers will not want to lose Swakopmund.
Namibia is one of those dream places that ask the question whether something so visually orgasmic could actually exist. Time and space are less suitable here. Landscapes collide. The experiences accumulate. View a lion stalking its prey in Etosha endless plain. Fly a giant dune on a sand board. Spend a night alone in the desert under a sky full of stars that can not differentiate between the constellations.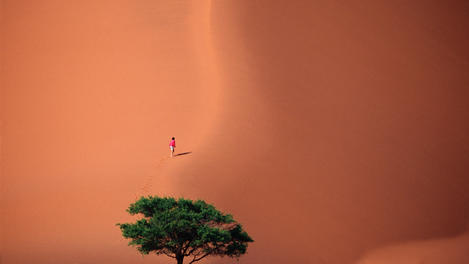 Etosha National Park, the "Great White Place of Dry Water", taken at approximately 20, 000 square kilometers around its namesake, the great Etosha Pan and greenish white. This large park protects 114 species of mammals and 340 species of birds, 16 reptiles and amphibians, one fish species and countless insects.