Rebellious, flamboyant, vibrant, Lithuania (Lietuva) is Europe's best kept secret. Pushed forth between the pillars of Russia and Nazi post, tenacious little Lithuania stunned the world when he played David and Goliath with the strength of the Soviet Union – and won its independence just over a decade ago. Today the nation that disappeared from the maps of Europe is back with a vengeance: it is part of the EU, was the first of the 25 EU players to give the European Constitution a stamp of approval and is a full partner law 'n' the fight of NATO – at home no less than four F-16 military jet alliance used to police Baltic skies.
This is a country with a colorful history, once has an empire that stretched from the Baltic to the Black Sea. Her cousin pagan roots fuse with Catholic fervor – the Polish heritage sets it apart from its Baltic brothers – to create a land where Catholics and Orthodox are mixed happily in the forest to pick berries and mushrooms from the altar of nature. Its capital, Vilnius, is an incredibly small (can that be a capital?) With startling contrasts – dark mysterious courtyards, eccentric artist community, awesome arts and beautiful Baroque style. Its natural treasures, forests, lakes, magical saliva Courland west of Lithuania – brightness, while its oddities: the Hill of Crosses and a Soviet sculpture park – add a flavor found nowhere else.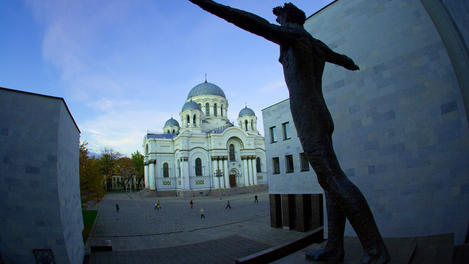 Port of Klaipeda, 315 km west of Vilnius, is the springboard to the natural beauty of the Curonian Spit. But as the third largest in Lithuania, the city is worth a stop in its own right, especially Germanic flavor and architecture that reflects the fascinating past of Memel Prussia capital. The city was destroyed in the Second World War, during which he served as a Nazi submarine base, but a small patch whistle of the old town survived unscathed – like a tower of red brick magnificent accounts of the castle.